End-to-End Managed SD-WAN Services
SUPERNAP (Thailand) provides, together with technology leader partners, Cisco and ngena, a comprehensive service offering that allows customer access to data center, the cloud and branches with high quality of connectivity, security and reliability.
Together, we deliver software-defined networking and managed security as a Service, making network modernization fast, simple, and secure for the Cloud era by empowering digital transformation with next-generation connectivity.
The SD-WAN solution is designed for multi-cloud Managed as-a-Service connectivity: a flexible experience with no hardware investments, project management or long design configuration times.
Global reach and local care
Fully OPEX – Transform networking into an entirely OPEX service, with predictable all-in-one pricing and flexibility
Unified End-to-End Platform connects business-critical resources from edge to core to the Cloud in one seamless and holistic platform
Flexible Designs are engineered for your exact needs, improving connectivity for today's mobile, remote, and Cloud-native workforces
New networks in a click with ngena's easy to use QuickSizer tool making designing new networks fast and simple and enables you to deliver a new network design in minutes, not days or weeks
Simplify activation & consumption of SD-WAN with Rapid deployment and fast roll-out
Hybrid networks across Cisco portfolio
Outstanding network quality and security
Cost effective hybrid access lines
Fully managed service to relieve your IT department
Cut Total Cost of Ownership by 25% and more
Direct access to full automation and self-service
Platform for vertical/ industry services – gear 3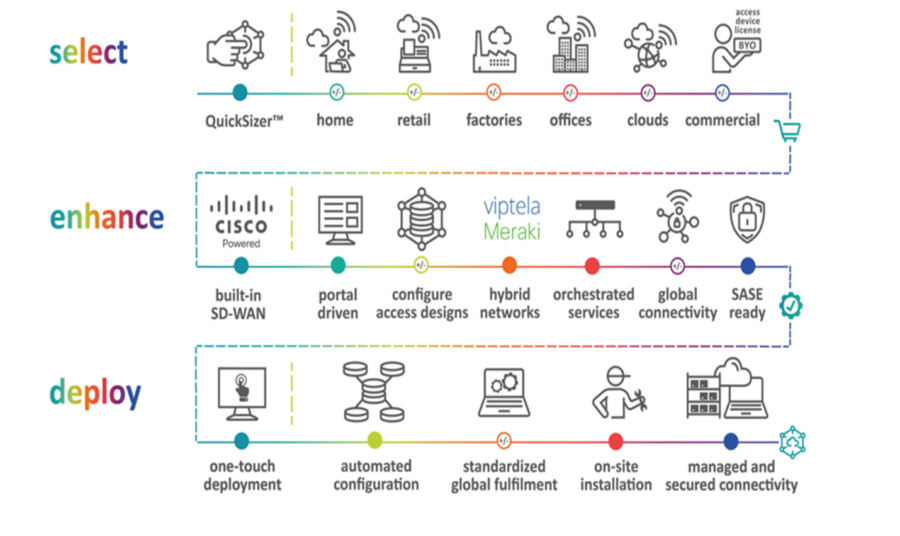 With one touch, we provide comprehensive, integrated, fully automated, highly flexible and easy to use connectivity services to any location in the world, delivered by a global cloud platform to enable business customers on their digital journey to the cloud.
Contact us here to get in touch with our SD-WAN specialists.